The last week of August could not have been more hectic and inspiring for some of the people of our lab. The first Animal Movement Ecology Summer School held at the University of Zurich as part of the PhD Program in Ecology of the Life Science Zurich Graduate School has been a great success. We managed to bring together 30 highly dedicated and motivated participants from UZH/ETHZ and from overseas as well as seven top lecturers for what has been an intense and dynamic week.
Participants had the opportunity to alternate high-quality lectures – covering a wide range of topics, such as remote sensing, home-range and movement analysis, patch occupancy models, population dynamics – with some social activities, such has bbq and the long-sought-after jump in the Limmat, the local river. The scope of such activities was to quickly create a cohesive group and promote interactions among the participants and with the lecturers to establish future collaborations. A great success has been the day organised at the Tierpark Goldau, where we had the possibility to follow lectures in a natural and inspiring environment.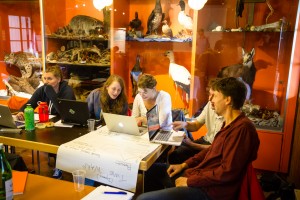 We, organizers, received very positive feedbacks from all participants, which is very encouraging, and we are therefore keen to offer a similar, and even more exciting, course during the summer 2014! Stay tuned on this blog if you do not want to miss-out and want to…keep moving forward!