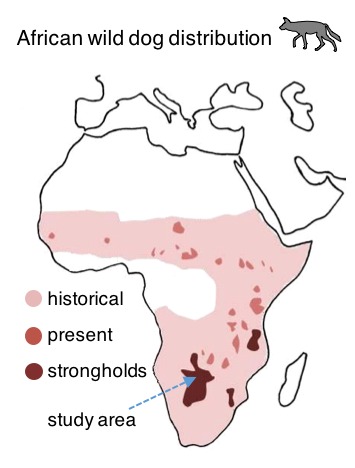 The African wild dog (Lycaon pictus) is Africa's most endangered large carnivore and is listed as endangered in the IUCN Red List. The species was formerly distributed throughout sub-Sahara Africa but today it has disappeared from most of its former range. Less than 6'000 free-ranging individuals organised in small subpopulations scattered throughout the continent survive in the wild, and the species has been given very high conservation priority. Scientific information is urgently needed for the implementation of large-scale evidence-based conservation of this endangered large carnivore.
Dispersal of individuals, through immigration and emigration, is one of the major processes changing the structure of existing social groups, as well as leading to the formation of new groups. This has obviously direct consequences on the dynamics of single subpopulations. Due mainly to technological limitations, however, the fate of dispersing wild dogs was mainly anecdotal. Recent miniaturisation of tracking devices finally allows us to follow dispersers in their whereabouts and collect information on dispersal success (e.g. survival rate, reproductive success after settlement in a new territory), which can be integrated in comprehensive demographic models.
With this project we aim to investigating dispersal and its demographic consequences in a free-ranging population of wild dogs in northern Botswana. To this end, we combine newly acquired movement data on dispersing coalitions with long-term demographic data of resident packs. We will explore the patterns and mechanisms of dispersal, the resulting population-dynamic implications, and ultimately present scientific evidence for the implementation of effective conservation strategies.
This project has been developed in collaboration and coordination with the Botswana Predator Conservation Trust, the longest running conservation research study on African wild dogs. Financial support has been granted by the Zurich University and the Swiss-based Parrotia Foundation.
In collaboration with: