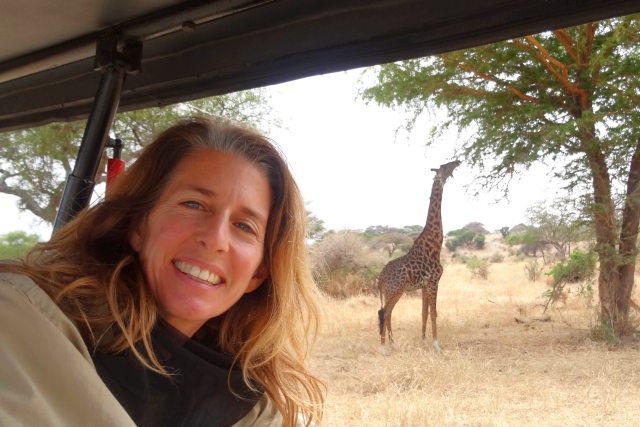 I am a wildlife biologist with an emphasis on integrating behavioral ecology and demography to conserve threatened species. My PhD research (co-supervised by Barbara König and Arpat Ozgul) focuses on demography of a socially and spatially structured giraffe population in a coupled natural-human ecosystem. I am building upon a long-term database of >2,100 individually identified giraffes in the Tarangire Ecosystem of northern Tanzania to investigate fine-grained biological and ecological factors underlying social and spatial population dynamics. I am studying social networks, herd dynamics, and natal dispersal. Results from my research will have important implications for conservation and management of giraffes and other tropical ungulates inhabiting increasingly fragmented ecosystems.
Previously I studied space use by small mammals and Burrowing Owls in grasslands, habitat use by spotted owls in burned landscapes, and demography of northern elephant seals and arboreal salamanders in California, and Hawaiian monk seals in the Northwestern Hawaiian Islands.
CV
Present, PhD candidate, Department of Evolutionary Biology and Environmental Studies, University of Zürich, Switzerland
2011-2017, Principal Scientist, Wild Nature Institute
2011, Biologist, The Institute for Bird Populations, Lassen National Forest, California
2004-2010, Research Assistant, Point Blue Conservation Science, SE Farallon Island, California
2008-2009, Field Biologist, NMFS Pacific Islands Marine Science Center, Tern Island, Hawaii
2006-2007, Biologist and Co-Principal Investigator, The Institute for Bird Populations, Sequoia National Forest, California
2001-2006, Staff Biologist, Center for Biological Diversity, Idyllwild, California
1999-2001, Research Fellow, University of Minnesota Department of Fisheries, Wildlife & Conservation Biology
1996-1999, MSc Wildlife Science, Oregon State University
Publications
Bond ML, Bradley CM, Kiffner C, Morrison TA, Lee DE 2017. A multi-method approach to delineate and validate migratory corridors. Landscape Ecology. DOI 10.1007/s10980-017-0537-4.
Lee DE, Bond ML, Bolger DT 2017. Season of birth affects juvenile survival of giraffe. Population Ecology. DOI 10.1007/s10144-017-0571-8.
Lee DE, Kissui BM, Kiwango YA, Bond ML 2016. Migratory herds of wildebeest and zebra indirectly affect juvenile survival of giraffes. Ecology and Evolution. DOI 10.1002/ece3.2561.
Bond ML, Strauss MKL, Lee DE 2016. Soil correlates and mortality of Giraffe Skin Disease in Tanzania. Journal of Wildlife Diseases. DOI: 10.7589/2016-02-047.
Bond ML, Bradley C, Lee DE 2016. Foraging habitat selection by California spotted owls after fire. Journal of Wildlife Management 80:1290-1300.
Lee DE, Bond ML, Kissui BM, Kiwango YA, Bolger DT 2016. Spatial variation in giraffe demography: a test of 2 paradigms. Journal of Mammalogy 97:1015-1025.
Lee DE, Bond ML 2016. Precision, accuracy, and costs of survey methods for giraffe Giraffa camelopardalis. Journal of Mammalogy 97:940-948.
Lee DE, Bond ML 2016. The occurrence and prevalence of giraffe skin disease in protected areas of northern Tanzania. Journal of Wildlife Diseases 52:753-755.
Lee DE, Bond ML 2015. Previous year's reproductive state affects Spotted Owl site occupancy and reproduction responses to natural and anthropogenic disturbances. The Condor 117:307-319.
Lee DE, Bond ML 2015. Occupancy of California Spotted Owl sites following a large fire in the Sierra Nevada, California. The Condor 117:228-236.
Lee DE, Bond ML, Borchert MI, Tanner R.  2013. Influence of fire and salvage logging on site occupancy of spotted owls in the San Bernardino and San Jacinto Mountains of Southern California. Journal of Wildlife Management 77:1327-1341.